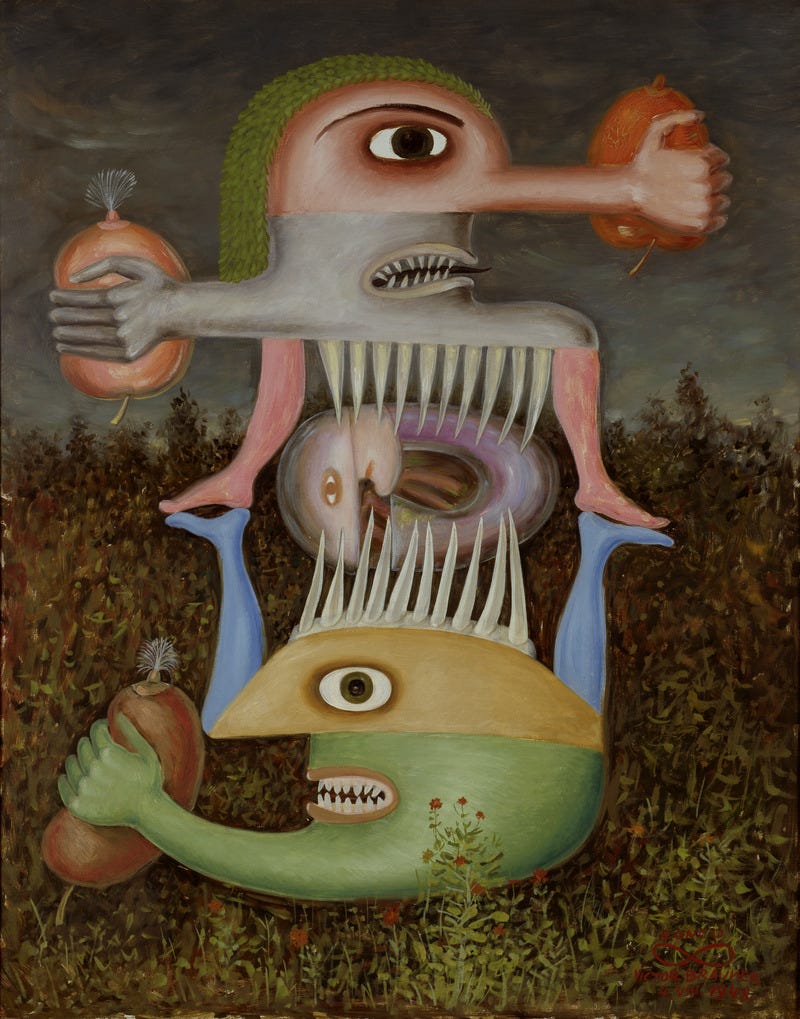 [Image: Victor Brauner, Totem of Wounded Subjectivity II , 4 August 1948 Oil on canvas 91,5 x 72,7 cm Legacy of Mrs. Jacqueline Victor Brauner in 1986 Collection Centre Pompidou, Paris Musée national d'art moderne – Centre de création industrielle Inventory number: AM 1987-1205 Copyright of artwork: © Adagp, Paris Filename : 4F00059 Photo credit : (c) Centre Pompidou, MNAM-CCI/Jean-François Tomasian/Dist. RMN-GP Copyright of artwork : © Adagp, Paris]
To mark the 120th anniversary of one of Romania's most important artists, Timisoara is currently staging a retrospective of Surrealist painter-sculptor Victor Brauner (1903-1966): Victor Brauner: Inventions and Magic (National Museum of Art, Timisoara, 17 February-28 May 2023). This review is from the catalogue. Brauner's life as an exile in Paris mirrored that of other Romanians, who were unwilling or unable to live under the Communist regime. Brauner's aversion to totalitarianism and his commitment to follow his imagination, wherever that was, made him incompatible with the values of the government. It just so happened that he had left his home country before World War II to be part of the Surrealist group under the guidance of André Breton.
Life
Born into a Jewish family in Moldavia, as part of the Austro-Hungarian Empire, Victor Brauner was influenced by his father's occult Hassidic practices of Kabbalah. The family believed in spiritualism and conducted seances. This would become a significant influence on his art, increasingly from 1938 onwards. His younger brother Théodore (1914-2000) became a photographer and designer. Victor became an amateur artist while a schoolboy, when his family lived in Bucharest. He went on to study at the School of Fine Arts, Bucharest (1919-22), including one year of in the sculpture studio, before being expelled for his anti-authoritarian attitude.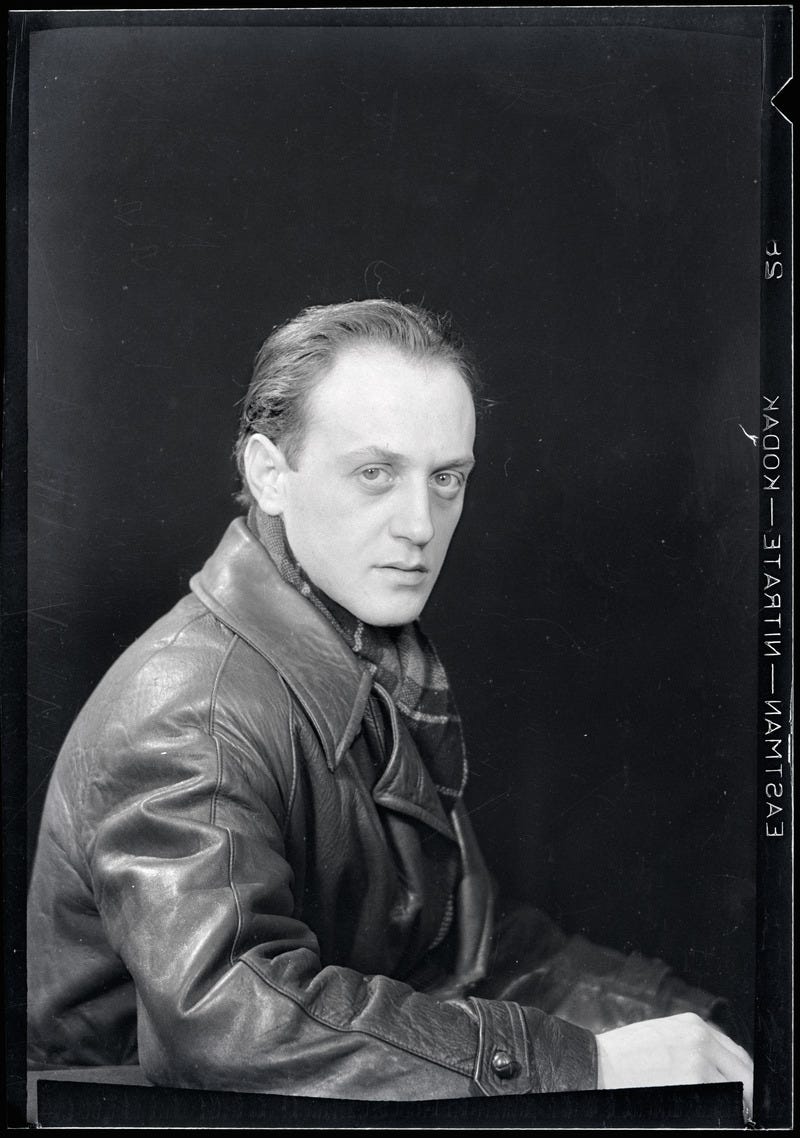 [Image: Man Ray, Victor Brauner (c. 1933) Silver bromide gelatin negative on flexible support 8,7 x 6,2 cm Caption : Positive image obtained by inverting the values of the digitization of the original negative Filename : 4H20453 Photo credit : (c) Centre Pompidou, MNAM-CCI/Dist. RMN-GP Copyright of artwork : © Man Ray Trust / Adagp, Paris Donated by Mr. Lucien Treillard in 1995 Collection Centre Pompidou, Paris Musée national d'art moderne – Centre de création industrielle Inventory number: AM 1995-281 (453) Copyright of artwork : © Man Ray Trust / Adagp, Paris]
Contact with Modernism was not strong outside of Vienna, Prague and (to a lesser extent) Budapest within the Hapsburg Empire. Whether or not Bucharest's reception of Modernism was impaired by the independence of Romania in 1918-9 is an open question. Certainly, Romania's backwater situation regarding Modernist art dissatisfied many of its intellectuals. In 1924 Contimporanul, an exhibition including leading Modernist artists alongside ex-patriate Constantin Brâncuşi and other Romanian artists, was held in Bucharest. The 21-year-old Brauner participated and later that year held his first solo exhibition, also in Bucharest.
As the acknowledged capital of culture in the inter-war period, Paris drew artists from around the world. This was true for Romanians such as Constantin Brâncuşi, Tristan Tzara, Marcel Janco (Iancu), Arthur Segal, Jacques Hérold and others. Brauner stayed in Paris during 1925-7 and 1930-3, however, the dates are deceptive. From 1927 until late 1929, Brauner had to undertake national service in Romania, hence we should think of the entire as one during which Brauner was committed to both Paris and Surrealism, although it seems the rise of the nationalist parties in 1930 that pushed Brauner to leave. Poverty forced him to return to Bucharest in 1933, where he became increasing involved with the Communist underground opposition to the government (by this time evolving towards Fascism) and the monarchy. One of the catalogue essayists suggests Brauner intended to establish a Bucharest branch of the pro-Soviet A.E.A.R. (Association des Écrivains et Artistes Révolutionnaires). He did less painting and more left-wing caricatures and book illustration. However, he distanced himself from the Communists after the Soviet show trials of 1937 and, when faced with new legislation that forced Jews to apply for Romanian citizenship, he left Romania in early 1938 for Paris.[ii] This time it was permanent. He would never return to Romania. In 1947 he signed the Inaugural Rupture statement, rejecting the Marxism that dominated the Parisian cultural and intellectual elite.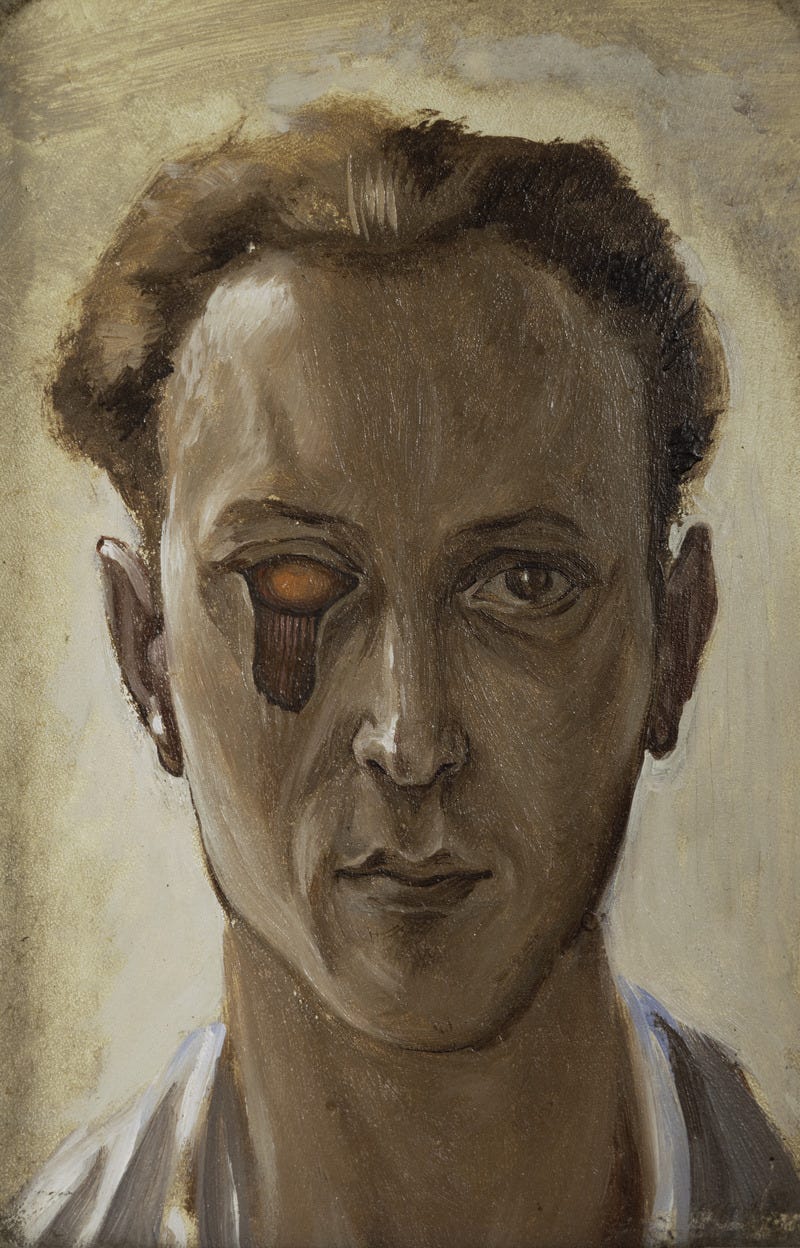 [Image: Victor Brauner, Self-portrait (1931), Oil on wood 22 x 16,2 cm Legacy of Mrs. Jacqueline Victor Brauner in 1986 Collection Centre Pompidou, Paris Musée national d'art moderne – Centre de création industrielle Inventory number: AM 1987-1196 Copyright of artwork : © Adagp, Paris]
On the night of 27-8 August 1938, while intervening in a fight between Esteban Francès and Oscar Domínguéz (in the latter's studio), Brauner an lost eye. This would have a deep impact on his art. It was also seen by the Surrealists as proof of Brauner's uncanny foresight, as years earlier (1931) he had painted a self-portrait with disfigured eye. The incident is one of the most repeated anecdotes relating to Surrealism. This perhaps pushed the artist to reconsider his family's occult spiritual beliefs. Whatever the exact cause, throughout the 1940s there is an increased presence in Brauner's art of religious symbolism.
Following the invasion of France in 1940, Brauner and his first wife fled to Marseille, with numerous other Surrealists. His vicious painting of Hitler (1934) was a death sentence, should the Gestapo have become aware of it and apprehended Brauner. In 1942, he moved to the Hautes-Alps region and lived undercover for three years, returning to Paris after the end of the war. He began making sculpture seriously in late 1945. In 1961 Brauner moved from Paris to Normandy (where he had holidayed in recent years). Brauner received increasing recognition nationally and internationally, particularly in Venice Biennales. He died on 12 March 1966 in Paris.
Work
All periods, except pre-1923, are represented in the selection. The earliest works in the exhibition are from 1923 and give us an idea of what was shown in his first group and solo shows of 1924. The works are influenced by Blaue Reiter and Cubism and are highly stylised renderings of figures and verdant landscapes. This is the common path that most young painters of the time followed, working out what it meant to be "modern". The first Surrealist painting in the exhibition is from 1928. Brauner soon took up the oneiric/veristic line of painting in Surrealism, with a collage sensibility, that places him beside Dalí, Magritte, Fini and Carrington.
The political cartoons of the 1930s (featuring a Pere Ubu-like character, called "Monsieur K") are not so different to cadavres exquis or Brauner's drawings of fantastic figures, also displayed. There is a painting of a head with paintbrushes extruded from eyes and mouth. There are other inventions that are similarly striking but banal. The deadening effect of a rather simplistic technique, an indifferent palette and a lack of engagement with the mise en scene combine to produce works we would expect from a bright juvenile painter.
Curators have included large numbers of drawings and prints, as well as Brauner's best-known paintings. The famous self-portrait has travelled from Centre Pompidou, Paris, looking lighter and less ominous than it has in other reproductions. Items are from French and Romanian collections, public and private. His early Surrealist paintings are hit or miss, depending on the strength of the imagery. The technique is conventional and not especially appealing per se. The 1938-1945 works show more time taken with each picture, a strengthening ability to enter an imaginary world and a lessening of the jejune tendency to give us the image raw. The post-1945 paintings are more integrated in terms of the technique and imagery being fully congruent, so they are better as art than the earlier two periods, even if one might not warm to the pictographic character.
The engagement with sculpture, the use of impasto through encaustic painting and the flattening of pictorial depth could be attributed to Brauner's monocular vision from 1938 onwards. No doubt this did play a significant part in this activity, but we should not overlook the wider cultural situation. Surrealism post-1945 became increasingly attached to these currents, marking a divergence from its highly political and anti-religious pre-war stance. Brauner was one of the artists who paralleled this broad Surrealist trajectory, albeit due to personal reasons. Evidence here is that from 1938 to 1945 or so, Brauner maintained his volumetric modelling of figures and objects and his pictorial space remains as deep as previously. It is only later that we get the radical flattening of space and linearity; profiles and outlines dominate.
Non-European art (particularly North American natives) and the drawings of children come to mind when viewing the art of the 1960s. The drawing from November 1964 has heads, profiles and animals combined in a naïve manner. In 1965 Brauner was experimenting with shaped and painted frames, some up to 2 metres wide. These are particularly successful and it is a shame that this line of work was curtailed by Brauner's illness and death the following year. Did his art improve as he took on a shamanic role? Perhaps so. Remember that shamans are also tricksters and Brauner never abandoned the comic combination, so if Brauner was a shaman-painter, he never rejected the power of absurdity.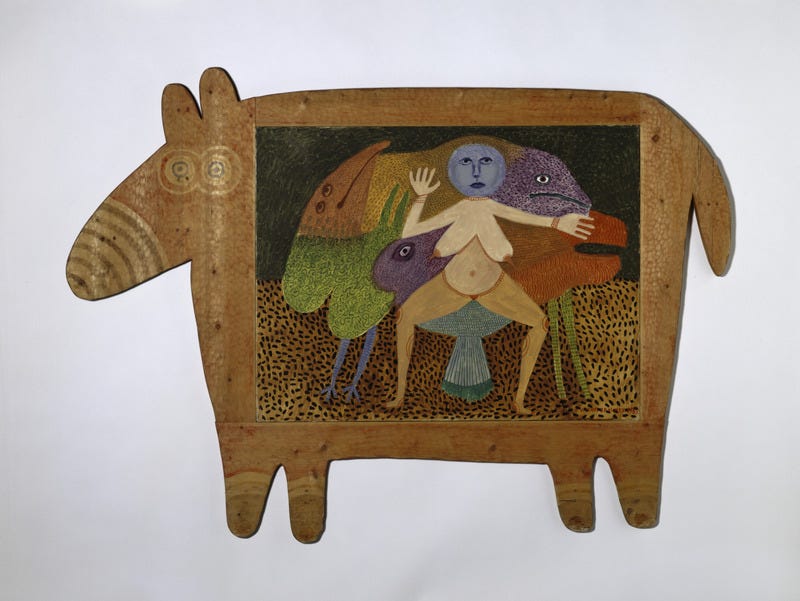 [Victor Brauner, The Mother of Myths (1965) Oil on canvas and painted wood on plywood 144 x 200 x 3 cm Purchase from the arrears of the legacy of Jacqueline Victor-Brauner, 1993 In storage since 1996 : Musée de l'Abbaye Sainte-Croix (Les Sables-d'Olonne) Collection Centre Pompidou, Paris Musée national d'art moderne – Centre de création industrielle Inventory number: AM 1993-86 Copyright of artwork: © Adagp, Paris]
Although Brauner is called a painter-sculptor, there is little sculpture here, even including the two carved frame. The exhibition includes only two sculptures proper and mentions five being made in 1945. So, what was the extent and nature of Brauner's sculptural output? This goes unanswered. The famous Loup-table (1947), an assemblage which has a table converted into a fox, is absent from the exhibition and not even illustrated in the catalogue. However, the exhibition does a good job of giving a thorough overview of the artist's output.
Reception and response
It seems reception of Brauner's art in Romania was impeded by the double barriers of anti-Modernism and anti-Semitism. Posthumously, Brauner was rehabilitated (or actually introduced) for Romanian audiences by the nationalist reclamation by Ceauşescu's culture ministry. The street of his birthplace was named after him. Yet his first major retrospective in Romania only took place in 2003, marking his centenary. However, he is arguably still more a part of the French cultural landscape than that of Romania.
What are we to make of Brauner now? The wave of research into Surrealism that has continued unabated for the last 30 or 40 years has centred on marginal creators, especially women, and dissident groups (the Documents-Bataille group) and foreign arms of the movement. Brauner was a core member of the Paris group from early days. He has not been neglected but he seems only to have failed to spark excitement. Several writers in the catalogue make a push for Brauner as relevant as a trans-national artist, yet another figure legitimising the current drive in museums to embrace and promote migrants. This will not wash. From Mondrian to Picasso, from Holbein the Younger to Van Dyke, Western art is full of great artists who worked in countries other than those in which they were born and they have been amply lauded. However, in contrast to today's tokenism, no museum ever promoted Van Gogh primarily because he was a migrant.
So, does Brauner's art hold up as art? In parts, yes. There is some feeble stuff and that is not due to poor curation or lack of availability of sufficient works. One cannot tell the story of Brauner without including awful pictures because he was often an awful painter. There is a degree of repetition in the later pictographs but as art, they function at a higher level than the early (pre-1938) pieces, perhaps with the exception of the 1931 self-portrait. Viewing the catalogue, my opinion of him is slightly raised. I wish I had the chance to see the art in person to find out how that might alter my understanding.
Camille Morando (ed.), Victor Brauner: Inventions and Magic, Arta Graphica/Art Encounters Foundation, Bucharest, 2023, hardcover, 208pp, fully illus., Romanian/English text, 199L/€39
---